Glass partitions
UNIQUIN
Back to overview
<p>glass partition wall 50401, 50010, 50801, 50402, 50011, 50802, 50403, 50012, 50806, 50101, 50812, 50809, 50813, 50810, 50814, 50811, 50818, 50815, 50819, 50816, 50820, 50817, 50301, 50513, 50080, 50520, 50529, 50530, 50531, 50532, 50533, 50534, 50835, 50901</p>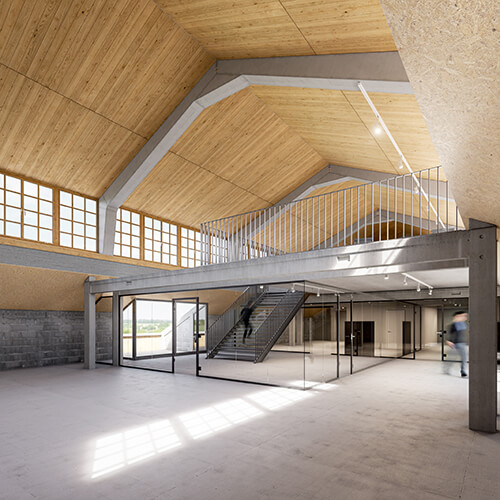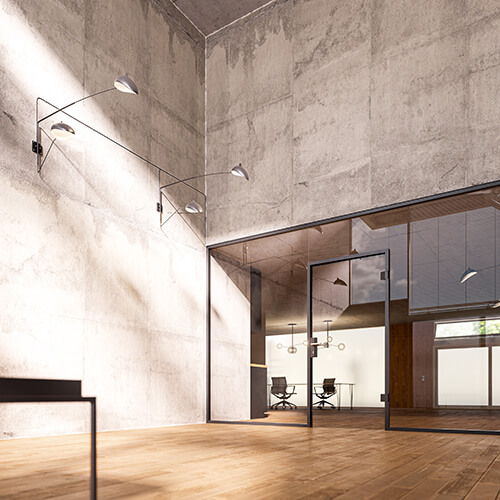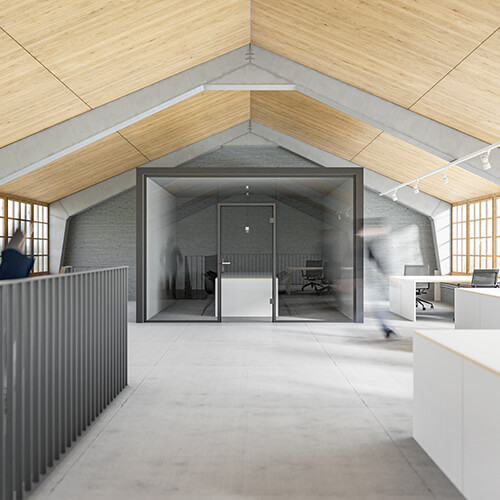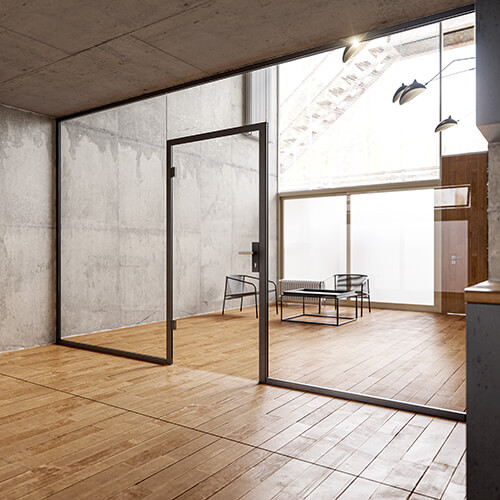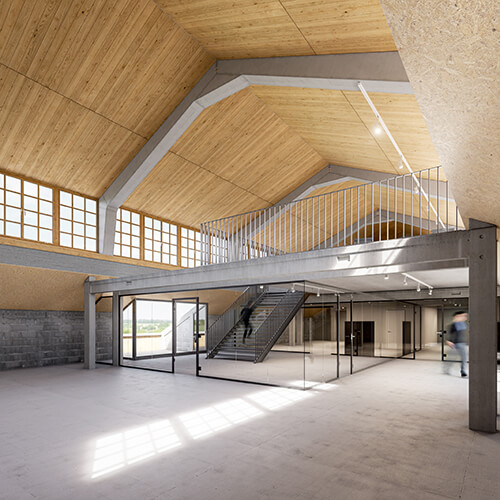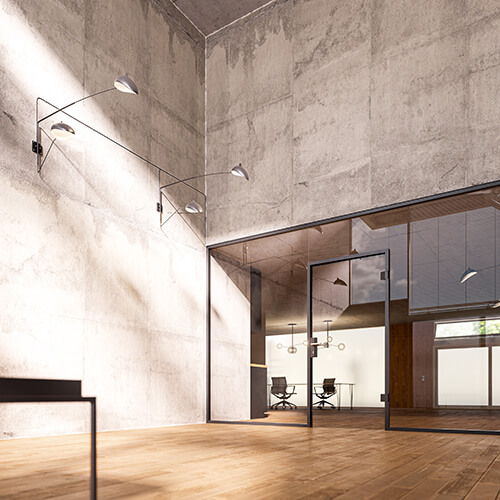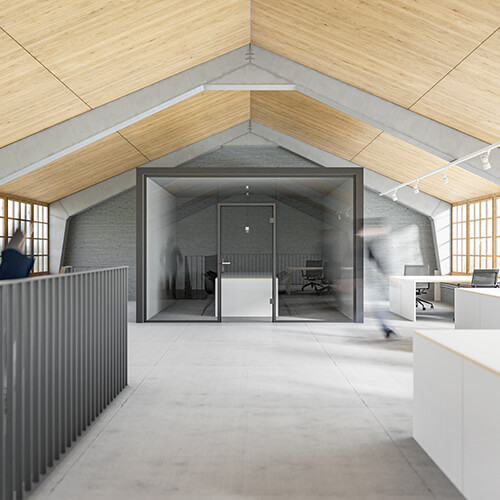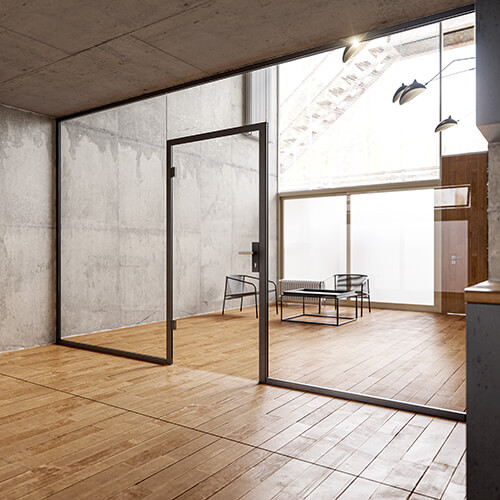 Glass partition wall with lifestyle character
Perfect your room design. With a system of glass partitions and door solutions that impresses with the uniform design of all components and with versatile application possibilities. With a system that combines transparency and discretion.
Advantages
Modern design with coordinated functional elements
Aluminium profiles, powder-coated finishes
Integration of sliding and single-action doors in standard height or room high in matching design
Access control systems for additional safety (option)
Selectable positioning of E-modules in the area of the frames for optimum use of space (option)
Individually dimensionable acoustic modules ensure optimised room acoustics (option)
Decoupled glass reception for high sound insulation
Easy and quick installation
Specialist partner search
UNIQUIN - At a glance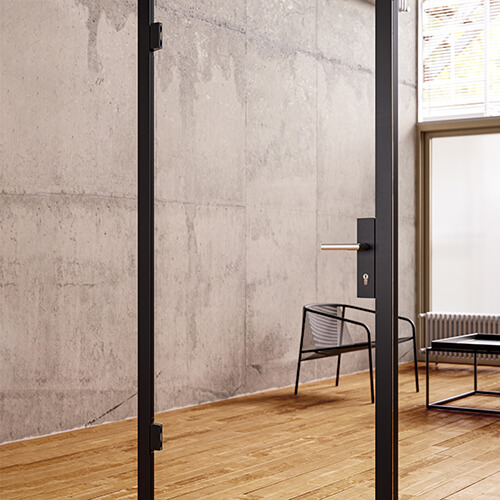 Total installation measurements
w = no limit (according to respective glass statics), h = max. 4000 mm
Intermediate fixed panel
Wall mounted fixed panel
w = min. 500 mm, h = max. 4000 mm
w = min. 300 mm, h = max. 4000 mm (see also table ""Maximum installation height"" in Technical Brochure)
Pane material
Glass (TSG, LSG from 2 x TSG), wood or other material (10 - 19 mm)
Mounting profiles
for material thicknesses of 10 – 13.5 mm, 14 – 18 mm and 16 – 19 mm
Profile material
Aluminium, powder coated
Profile colors
382 AL graphite powder coated (Graphite P 182 SR)
318 AL similar EV 1 powder coated (Silver P 600 SG)
383 AL similar DB 703 fine texture powder coated
384 AL white fine texture powder coated (RAL 9016)
385 AL black fine texture powder coated (RAL 9005)
399 AL special color powder coated (Standard powder according to RAL card)
Installation options
Wall, floor, ceiling, 90° room corner, T-joint
Door types
Single action and sliding doors
Emergency exist / panic function
In accordance with EN 179 and EN 1125 (can be equipped optionally)
Wiring (electrics / electronics)
Integration of NYM cables with max. outside diameter of 10 mm
Sound protection test
Tested sound protection according to DIN EN ISO 10140 up to 41 dB, depending on design and construction type. (The sound protection value may vary depending on the chosen glass thickness. The specified value of up to 39 dB refers to a complete door element and thus to the supposedly weakest element of an assembly. Up to 41 dB can be achieved in the fixed panel area. Corresponding certificates are available upon request.)
Structural analysis
Proof of stability according to DIN 18008. DIN 4103 available as certificate for glass.
(For alternative materials, the safety certificate must be furnished on a case-by-case basis.)
Accident-proof glazing possible with UNIQUIN.
Accessories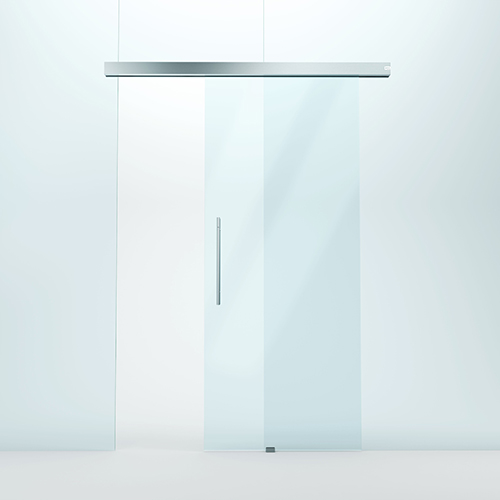 Track rail integrated into a ceiling slot, sliding door retracted into a wall pocket. This combines practical utility with visual understatement.
Related topics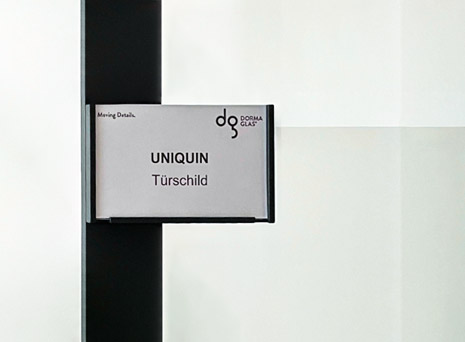 Who hasn't experienced this: a large office floor, room after room, and the search begins. Where is the right department and who sits in which office? Glass partitions with UNIQUIN at least allow first insights. But who can provide quick and precise information?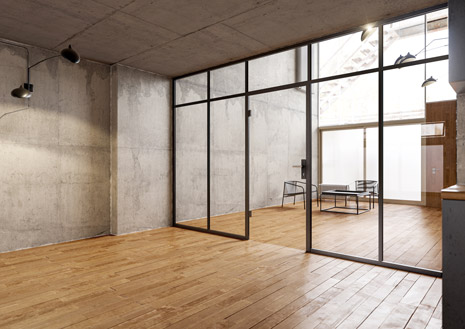 What used to be a sign of functional architecture has now become a trend: The industrial style has found its way into the furniture and decoration sector. And into the design of room partitions made of glass.